1.How to install this Advanced Led all-in-one  solar yard  light?
The installation of this Advanced Led all-in-one solar yard light  is very easy.We recommend three installation methods as follows.

Method 1: Process a straight pole on which a flange is connected, then fix the UFO lamp on the flange. The total height is about 2 meters to 3 meters.
Method 2: This installation method is suitable for dual-lamp applications. The lamp pole is a square tube of 60mm × 60mm, at the top with a symmetrical lamp arm which is connected a flange, then the UFO lamp is fixed on the flange. The total height is about 3~4 meters. Because the appearance looks like Libra, it also is called as a solar Libra lamp.

Method 3: In order to more quickly install and use the UFO lamp, a stainless adapter can be provided. When the installation condition is harsh, this simple installation method is a good choice.

As shown below, you may use the iron pipe,wood, bamboo or PVC pipe as a lamp pole and connect the pole and lamp with the adapter, then fix the pole in a place you want. 
Method 1 Drawing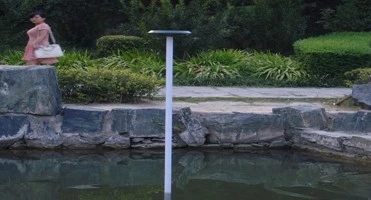 Mothod 1 Solar yard Light in Water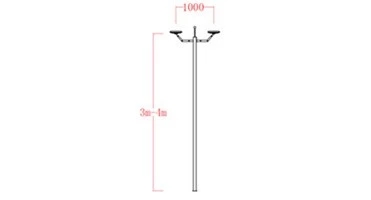 Method 2 Drawing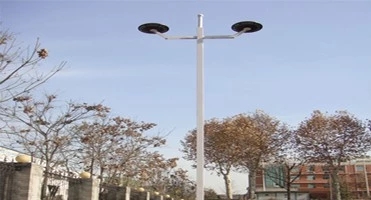 Method 2 4M Solar Libra Light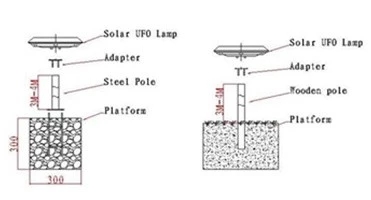 Method 3 Drawing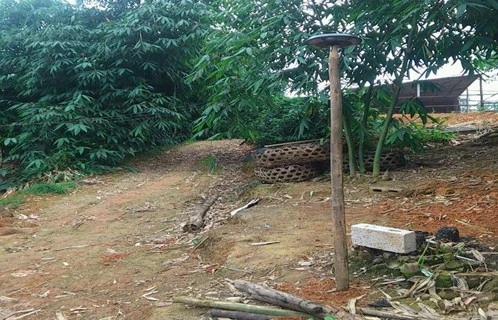 Method 3 Hill Lighting with a wooden Pole